Hey-ho, do you like
Dave Sim's
comical book works?
Well, Dave has asked me to send out info to help promote tomorrow night's
CerebusTV
to readers of Blink and since Dave is such a strong supporter of my work, I said "certainly." (He printed yet ANOTHER one of my sketches/letters in the most recent issue of "glamourpuss."  Available now in comic shops or
online
)
If you can help spread the word by posting a link to this note on your Facebook or Twitter profile, I'd appreciate it (and, of course, so would Dave).
Thanks!
Below is a description of tomorrow night's show: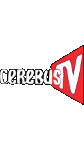 **EPISODE 20 "Crisis on Infinite Off-White Houses"**
Broadcast LIVE from the second floor rectangle office of the Off-White House in Downtown Kitchener, it features the Sudden Return of Follocly Challenged Neil Gaiman of Earth-Two (doing a LIVE remote from Dave Sim's imagination) and the (we hope) only appearance of the Effing Annoying PBS Membership Drive Dave Sim of Earth-Two. Fully interactive! Tune in and be a LIVE participant!
***
http://www.cerebustv.com/